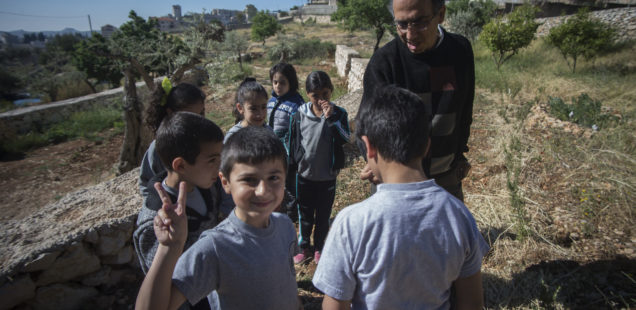 Prof. Mazin B. Qumsiyeh: courageous spinner of solidarity in and with Palestine!
Prof. Mazin B. Qumsiyeh– or Mazin, as many prefer to call him– is an inventive, gentle, untiring 'spinner of solidarity' who well fits the contemporary electronic modes of communication/ existence.  For years he has tirelessly diffused throughout the world a regular flow of messages that inform, inspire and motivate people to keep alive the hope and future of Palestine — whose territory and people have been subject to 72 years of flagrant injustice and humiliation. With his regular communication, Mazin has been weaving connections among people by sharing information, images and ideas — always seeking more humane, just and satisfying ways of living.  His blogs concern Palestine but apply equally to every situation of injustice.  They inspire everyone to resist, to strengthen their own integrity and creativity, to keep communicating even in the face of exasperating unfairness.  This is the essence of the strength of humanity— but it is still amazing to see it in action!
In parallel and in connection with sending out his regular Popular Resistance blog, Mazin has created and developed (largely with his own personal resources) the Palestine Institute for Biodiversity and Sustainability, which is part of Bethlehem University.  The Institute includes a botanical garden and an organic food production demonstration site. Working long hours and against the difficulties of a military occupation, Mazin has been offering courses and seminars for children and students in Palestine, while attracting hundreds of visitors and volunteers from many countries. In essence, Mazin nourishes an oasis of sanity in one of the most difficult and conflictual environments on earth. Occasionally, he also travels on tours around the USA and Europe, to diffuse information about Palestine and the situation there… facing, with typical warmth and courage, the inevitable difficulties that such tours imply.
As a highly educated Palestinian-American, Mazin is a privileged individual. A former professor of genetics who taught at Yale and Duke universities, he decided to return to his native village of Beit Sahour, near Bethlehem, in occupied Palestine, in 2008.  Both before and after this date, he has been active for the liberation of Palestine and in support of human rights in general.  He has founded several civil society groups and associations, and participated in many acts of non-violent resistance, but he has never joined any organised political movement. He could have led a comfortable 'normal life' as a university professor in the USA, but instead decided to relocate to the middle of a troubled region, and to engage body, soul, and time for meaningful change. The PKF Foundation believes he is right.  Devoting the work it takes towards one's desired future – no matter how huge it may be– is the only path by which a different reality can be 'built'.  And this is what Mazin keeps doing.
Among the prior recognitions Mazin has received are the 2011 Social Courage Award from the Peace and Justice Studies Association (USA), the Alex Odeh Award of the American Arab Anti-discrimination Committee and the Takreem Award. The Paul K. Feyerabend Foundation would like to recognise his work for diversity (biological as well as cultural and religious), integrity (esse quam videri), justice, respect for human rights, absolute rejection of racism and untiring motivation for positive action.  Mazin discusses, explains, and demonstrates in practice all these values with inspiring generosity and courage.  As a small example, he has donated the financial envelope of the PKF Award to his Institute in Bethlehem.  More importantly, he is donating his intelligence and his life to make the world a better place for everyone—a world where solidarity is indeed possible.
For more information about Mazin: