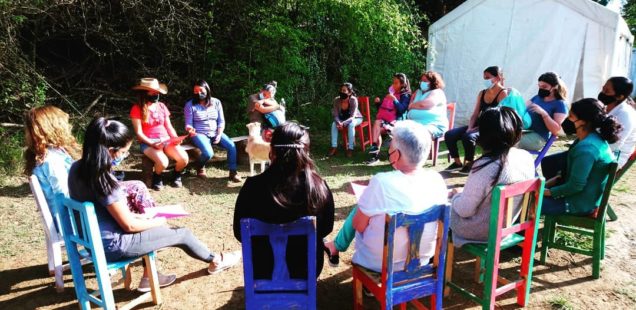 Self-managed Job Bank for indigenous and mestizo women and youth in an urban periphery in Chiapas (Mexico)
The Tierra Roja Cuxtitali Community Center offers a community learning space in the north-eastern outskirts of San Cristobal de Las Casas (Chiapas-Mexico).  This initiative— conceived by women and youth of the Community Center from both indigenous and mestizo backgrounds— is expected to create and self-manage a Job Bank to respond to one of the most profound problems they had identified: the lack of decent and autonomous jobs in the urban periphery where they live. It is hoped that the Job Bank will provide economic income, but also accompany a process of self-determination and strengthening of skills in conditions of solidarity and mutual support.  The need to find decent work— which is common to both indigenous and mestizo women— will foster understanding and peaceful coexistence between different cultures.  And the lessons learned in the process will be compiled and disseminated for the advantage of others.
Approximately 30 women and girls (15 years and older) will develop a space and tools to propose and find jobs that are decent, legal, safe, and fairly paid for the services offered. In such a space they will relate with respect, trust and solidarity, while strengthening the awareness of their own abilities.  The women and girls will begin a collective diagnosis of needs and priorities (group self-reflection) and will then empower one another and contact people, organizations, businesses and other networks that have employment opportunities. Through these activities, they will create and manage the Job Bank, offering and receiving concrete proposals.  The self-evaluation of the process will lead to the planning of the next cycle where the trained and employed first participants will be new facilitators and support the entry of new participants in the Job Bank.
The process will include free skill-building workshops, following the basic principles of popular education, and visits to sites of possible job opportunities (other NGOs, stores, houses, projects that respect human rights and guarantee the respect of workers' rights). The moments of training and networking are necessary to create a list/directory of proposals by the women themselves (for example, proposing themselves as cooks, secretaries, saleswomen, etc., with CVs that enhance their capacity to communicate and value their own abilities) and to start a self-managed supply/demand mechanism of job relations.  The space for mutual support among women will also follow up on the work relationships established through the Job Bank, with active listening and channelling of needs in close relation to the work of the Tierra Roja Cuxtitali Community Center.