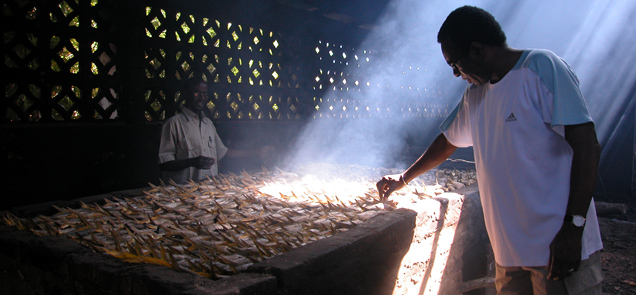 All initiatives supported by the Foundation deal with two main issues: community and solidarity.  For more information please consult the page "Views – Ideas".
The initiatives may concern underprivileged communities and engage them in a process of solidarity to improve their living conditions, their environment, or to make them better able to take on their collective rights and responsibilities. They may also attack the social conditions that bring about or perpetuate the lack of solidarity within or among communities. Or they may concern communities of spirit, willing to act in solidarity to defend a common issue.
Selection criteria
The Board chooses the initiatives to be supported by the Foundation, on the basis of expected results and in accordance with the Foundation's objectives. The Board will give preference to:
initiatives clearly capable of reinforcing or generating solidarity in the concerned communities.
exemplary initiatives, capable to inspire and motivate other communities.
initiatives that, with a small initial support, are likely to render themselves sustainable.
initiatives that do not receive any other support because of their pioneering nature.
initiatives based on plausible working assumptions, carried out by trusted actors capable of realizing them (feasibility)
Application procedures
The Foundation collaborates with a network of qualified individuals— called Nominators— resident in over 80 countries in the world.  The Nominators connect the Foundation with the individuals, communities and organisations who are candidates to carry out supported initiatives or receive the Paul K. Feyerabend Award.  The Nominators receive the applications for support, ask questions to evaluate the initiatives, and transmit to the Foundation the applications they deem eligible and promising. All individuals, communities and organisations who have a project for which they would like to be supported by the Foundation should contact a Nominator close to them.  In case they do not know any, they should send a project concept (please no more than a few paragraphs)  to secretariat@pkfeyerabend.org   Kindly consider that the Foundation accepts only initiatives that follow its key objectives of community solidarity and provide orthwhile benefits within and among communities.  If the concept will be considered promising the secretariat will put you in touch with a Nominator.  Regrettably, the Foundation will not be able to offer individual replies to all who will submit such concepts.
The period for submission of initiatives, nominations and concepts is 1 January – 30 April of the year concerned.
Maximum grant: 10,000 CHF for initiatives lasting one or two years.