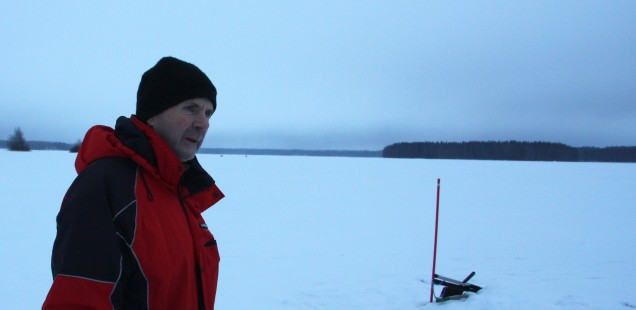 Tapio Kalli: working tirelessly to restore the ecological status of the Kuivasjärvi watershed (Finland)
Mr. Tapio Kalli, long-time leader of the fishermen of lake Kuivasjärvi, lives in Kuivasjärvi village (Parkano municipality, appr. 287 kms northwest of Helsinki, Finland). He is in his late 60s.
Doctor Elias Lönnrot, compiler of the national Epic of Finland "Kalevala", identified lake Kuivasjärvi catchment area to be amongst the 'last' in Western Finland where the traditions and endemic beliefs of the Finnish culture survived well into the 1800s. Tapio Kalli, who was still brought up following the remnants of the local hunting and fishing culture, has worked tirelessly throughout his life to restore the ecological status of the Kuivasjärvi watershed. The watershed had been heavily damaged between 1950s and 2010s mainly due to ditch drainage for state-sponsored and private forestry, but also, and most importantly, because of the expansive and aggressive peat mining and production all throughout the catchment area.
Mr. Kalli has worked by applying his traditional local knowledge as a hunter, forestry specialist and fisherman, by participating in restoring marsh habitats, by encouraging different parties to conserve the last old growth forests and by revitalizing winter and summer communal fisheries with nets, fish traps and seining. He has also opened a wide-ranging dialogue with scientists to investigate the water quality, monitor damaged sites, restore the habitats of extremely endangered ptarmigan stocks (the southern-most found in Finland) and construct artificial nests for the Osprey populations. He has bravely confronted the VAPO state peat production company to prevent and heal the damages to his lake.
Mr. Kalli's work has received international attention. The US-based influential journal "Foreign Policy" had heard of his work combining traditional knowledge, science and fishing activities to restore Europe's boreal lakes. They reported about the fact that a major international review of the state of environment in boreal Finland had included the previously-little known perspective of traditional villages and fishermen. This made Mr. Kalli even better known, a source of debates internationally and in his own country. After decades of pushing for these issues to be recognized, his commitment to his lakes, forests and fish has finally broken through to widespread acclaim.