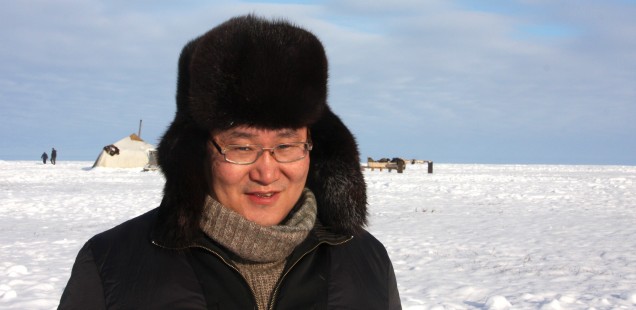 Chief Vyacheslav Shadrin: constantly on the move for the rights of indigenous peoples in Russia
Chief Vyacheslav Shadrin is Chairperson of the Yukaghir Council of Elders, of the Republic of Sakha-Yakutia, in Russia. Since the late days of the Soviet Union, Chief Shadrin has systematically advanced the cause of the indigenous peoples and communities of the Far East of Russia. As a leader of his own Yukaghir indigenous people, he is Vice President of the Russian Association of Indigenous Peoples of the North, Siberia and Far East for Yakutia.
Throughout the 1990s, Chief Shadrin has been instrumental in supporting Yukaghir's land and language issues and, since the new millennium, has been constantly on the move to promote the larger movement of indigenous peoples, including Even, Evenk, Chukchi, Dolgan and Yukaghir peoples across the region in Yakutia, Chukotka, Magadan and Khabarovsk, among other areas.
Tirelessly travelling every week to distant indigenous communities in the tundra and taiga regions, Chief Shadrin learns about the problems of such communities and takes their issues forwards to the authorities and responsible bodies. He has provided leadership to international projects that dealt with issues as diverse as conservation of biodiversity, traditional knowledge, adaptation to climate change, solar energy and reindeer herding. Currently, he participates in regional coordination initiatives via the Snowchange Cooperative, the UNEP-GEF ECORA project in Lower Kolyma and numerous initiatives dealing with the preservation of indigenous culture, language and traditional knowledge. Last but not least, Chief Shadrin is a historian and a researcher and collaborates with the Institute of Humanities of the Russian Academy of Sciences.
Download the press release (PDF)