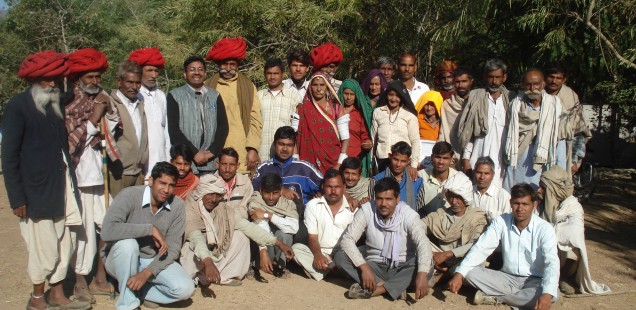 The Oran Resource Centre— a source of community empowerment in Rajastan (India)
'Oran' is a term used for a local « micro » biodiversity reserve at village level, often harbouring the shrine of a local goddess or deity. Such local forests vary in size from a hundred to five hundred bighas (about hundred hectares) and are frequently found in the foothills of the Aravalli ranges and Thar Desert, in Rajastan (India).  Most Orans harbour sources of water, small springs or rivulets running through them or a variety of ponds and nadis (water harvestings spots). A large collection of such forest patches is locally known as Chhind, a local term that means « landscape used largely for grazing ».
Under the project supported by the PKF Foundation, KRAPAVIS will set up an 'Oran Resource Centre' (ORC), which will be both community-based and policy-oriented.  The Center will be used to inform and empower the Oran governing communities and to make sure that their traditional knowledge and data are collected and safe. Thus, ORC will provide an opportunity for community groups to act on behalf of the cause of Orans and empower them with the necessary information. The ORC will also be a way to scale-up the current work of KRAPAVIS, bringing together communities with compatible or shared concerns and offering a better perspective for the future of Orans.
The ORC will be used as an effective forum where rightholders and stakeholders will be able to discuss matters related to forest survival and community development.  KRAPAVIS will also support a Shodhyatra—a traditional process by which a team, including local people, travels for ten days to document and develop information and knowledge related to the Orans. A 5 minute documentary video, and a publication on Oran system & their intrinsic conservation capacity, will be produced.