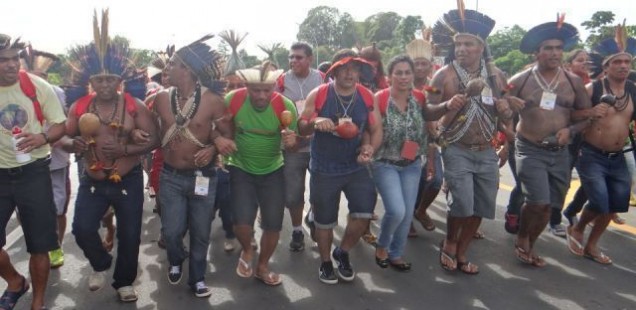 The indigenous peoples of Brazil—continuing the struggle to obtain the respect of their rights
This initiative provides support to two events where indigenous leaders will be strengthened in their struggle to secure the right to live in their customary territories. The first event is a mobilization, to be held in the second half of 2015, involving 40 leaders of Mato Grosso.  The second event is a so-called "Free Land Camp" (Campamiento Terra Libre), to be held in the first half of 2016 also with indigenous leaders. Both events will take place in Brasilia.
Indigenous representatives from different villages will be selected by their communities to participate on their behalf and advocate for land rights, health, education and a dignified life in the Mato Grosso.  In Cuiaba , the representatives will prepare documentation on constitutional amendments that threaten indigenous rights, analyze the current situation and discuss specific topics in some depth, paving the way to the mobilisation that will take place in the Federal Capital.  From Cuiaba to Brasilia the group will continue the journey on a special bus.
The national indigenous movement has a strategy of constant pressure on government bodies. Therefore the peoples from different states organize and, at least once a year, carry out visits to Brasilia as a way to provide that pressure.  Thus, in the first event, the indigenous representatives will visit various organisations, seeking alliances and affirming to society that their rights must be respected.  In the second event (Campamiento Tierra Libre), leaders from all over Brazil will meet to delve into issues related to the indigenous cause, seeking allies in Congress and promoting the awareness of society.  Both events are important to strengthen the struggle of indigenous peoples for a dignified life.  All achieved rights came about as a result of the organization, strength and participation of people.   To ensure the continuity of indigenous rights, it is necessary to keep struggling.
The files and pictures below offer a glimpse of the indigenous leaders' mobilisation in Brasilia and the requests they have been pursuing :