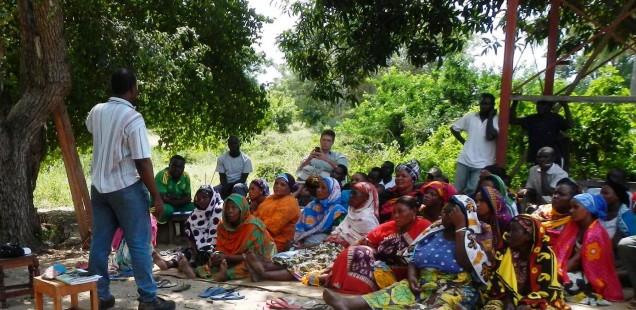 Supporting the small community of Uvinje (Tanzania) in their long battle to secure the rightful ownership of their village land
Uvinje is a tiny coastal community located 135 km north of Dar es Salaam since the 17th century. The community has weathered multiple challenges, including a dramatic decline in fishing due to depletion of stocks by commercial enterprises. Today, it clings firmly to its last source of livelihood: coconuts palms.  The community is also famous for conservation as in 1965, concerned at rampant poaching in its land (including of elephants), it actively donated two-thirds of its village area for the creation of Saadani Game Reserve.
Forty years later (2005) Tanzania National Parks (TANAPA) had the Reserve re-gazetted as a National Park. Unfortunately, in the process, the boundaries of the Reserve were surreptitiously redrawn to absorb Uvinje, including its attractive fresh water sources and beachfront. Following protest by the villagers, the Government commissioned an investigation, which found in its favour and officially restored their lands to them. With relief, and in an effort to boost their livelihoods in their ancestral lands, they formed two cooperative societies and donated 49 of their scarce acres to a joint venture to develop a small lodge in which the village still holds 30% shares. By formally approving the project, the Tanzanian Investment Centre as well as the Ministry of Lands also signalled recognition of Uvinje as village lands.
But TANAPA has not ceased trying to evict the villagers. Many in the wider locality now wonder if this is with the backing of interested commercial lodge enterprises or senior decision-makers. Local and international actors have communicated concern and appealed to the President of Tanzania to intervene. The matter is being addressed by the Tanzania Law Society and the Commission of Human Rights and Good Governance (CHRAGG).
The PKF Foundation is providing partial support to cover travel and related costs of villagers to keep pressing their case in Dar es Salaam, and to begin construction of an urgently needed electric fence to protect the coconut groves from incursions by elephants, which the villagers admire and protect, but also fear for the damage they can cause to their livelihoods.   While the community continues to be harassed and threatened with eviction, it also continues to be extremely determined to secure its collective rights to its ancestral land.  The community adamantly reports that it will never surrender its lands, that any action to do so is against their human rights, and that the erection of the fence is not only needed to protect their livelihoods, but also to signal to officials and politicians of their determination to remain and fight to secure its rightful collective land ownership.
To read more about Uvinje: