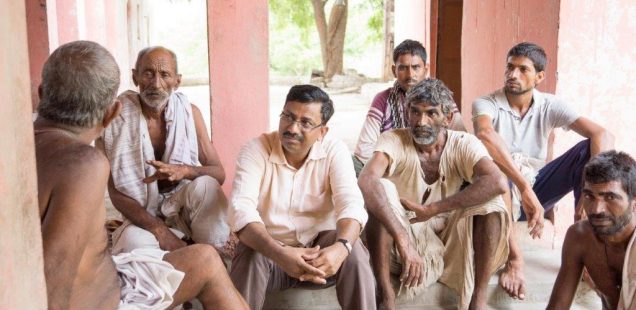 Aman Singh, the Orans advocate in Rajastan, India
In Rajastan (India), "Orans" are local community conserved areas that act as a store of biodiversity, enable effective water management and serve as a community-based system to restore and regenerate natural considtions. There are about 25,000 Orans in Rajasthan, which cover more than 600,000 hectares and provide a much-needed lifeline and safeguard to their own communities.
Aman Singh is an ardent advocate for Orans in Rajasthan and the Founder of Krishi Avam Paristhitiki Vikas Sansthan (KRAPAVIS)– a grassroots organisation that works towards the betterment of Orans to ensure sustainable livelihoods for indigenous communities in the dry lands of Rajasthan. Aman's work has been admired and appreciated within the state as well as in broader India. He has overseen the regeneration of over 129 Orans in Alwar district, and has taken initial steps to influence policy changes and legislation in the state. He has trained over 500 community volunteers, who work in their villages to disseminate information and provide assistance on ecological issues such as biodiversity conservation, water management and pastoralism. An important part of his work has been documentation of Orans, developing a database of Orans with over 1000 entries.
KRAPAVIS operates at three distinct levels. It preserves and enhances biodiversity and ecosystems in the Orans through various safeguarding measures such as tree and grass planting, soil restoration and water conservation. It lobbies for Oran protection with government and collaborating with various agencies. And it engages local communities through participatory training and guidance, with an emphasis on women empowerment.
Aman and KRAPAVIS has been working over two decades to revive Orans, both physically and conceptually, in the World's Oldest Aravali Mountain Range and in the Great Indian Desert of Rajasthan. They made a tangible difference to awareness of biodiversity; they re-instilled respect for the land and its multiple uses; and they improved hundreds of local ecosystems across Rajasthan, one of India's most water-challenged states. Aman's work serves as a model for community engagement at multiple levels to realise tangible improvements in local livelihoods and enabling future generations to continue their productive stewardship of the land.
Aman belongs to an agro-pastoralist community, has received several awards and fellowships and has written extensively on community conserved areas, ecology and pastoralism, including two recently volumes on Orans: Ecological Traditions of India – Rajasthan, and 'Orans' Indigenous Community Conserved Areas of Rajasthan-Lessons from Past, Future Perspectives.