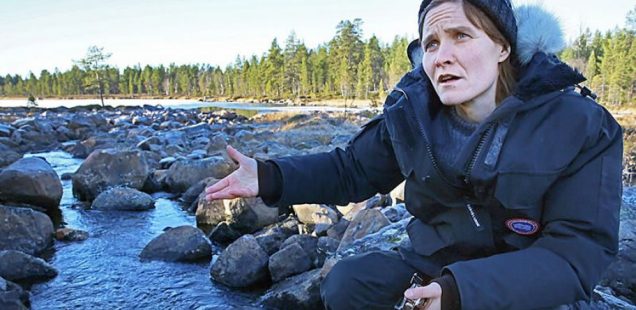 Pauliina Feodoroff, courageous beacon of hope (Finland)
Mrs. Pauliina Feodoroff is a Sámi woman from the Skolt family– a minority of a minority, who had to relocate to Finland in 1944 at the end of the Second World War due to territorial annexations by Soviet Union. The Skolt possess a distinct culture and language, for example have preserved their Skolt Sámi Council as indigenous governance body. Their language is, however, endangered, as only 300 people are said to speak it today, most of whom reside in a remote location in Russia.
Brought up in a reindeer family, Mrs. Feodoroff was immersed in the traditional Skolt Sámi society and culture and was involved as its representative to attempt solving land and water right issues. Moving on to study art and theatre in Helsinki, she directed the very first Skolt Sámi full length fictional film, shot between 1997 and 2007. For that she received various accolades in the press and from the critics. Meanwhile Mrs. Feodoroff was involved in the extensive campaign to protect and preserve the last old growth forests of Nellim, in Eastern Finnish Lapland, for Sámi reindeer herding. She was working with a range of allies, including Greenpeace, and eventually won historical victories for the herders and produced a film about the fight.
Propelled by this historical victory, Mrs. Feodoroff was chosen as President of the pan-Nordic Sámi Council, the highest political organisation of all Sámi peoples, from 2006 to 2008. During her presidency, she visited remote Sámi tribal communities in Russia and brought grievances against mining pressures to the forefront of indigenous politics and resistance. She also participated in a multi-year land use and occupancy study, which resulted in the highly prized Eastern Sámi Atlas.
Post-presidency, Mrs. Feodoroff continued to work on river and fishery restoration as well as on theatre and films, developing 'living maps' of the Skolt Sámi space, defending Sami's land rights and advancing the status of Sámi LGBT community amongst the Sámi. In 2015 Mrs. Feodoroff walked to the President of Finland with the black ink marker writing "169" on her forehead– stressing that Finland had not yet ratified the ILO Convention 169 on indigenous rights.
Is summary Mrs. Feodoroff is a courageous minority person, who managed to generate important new awareness and change in Finland and most of the time volunteers her time as a campaigner, film and theatre artist, and beacon of hope to a number of communities, including the Eastern and Skolt Sámi reindeer herding communities, the Sámi LGBT community and especially the Sámi women, who look to her for inspiration and leadership.