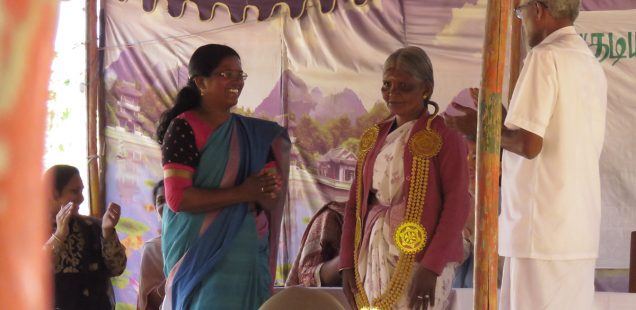 S. Janaki – a wise woman bridging tradition and modernity in the Nilgiris (India)
Janaki is a Kurumba woman elder who has emerged as a leader amongst her community, working hard to promote traditional systems of governance and revive important events in the community to keep their pride and identity alive. Protection of sacred groves has been one of the main elements of this work, as she has helped document 28 groves with the community and enabled the protection of 8 critical ones.
She has also been involved in claims over forests and valuation of traditional agriculture and hubbas (festivals) related to millet based food, health, nutrition and community solidarity. This has led to a significant increase in the growing of millets, setting up kitchen gardens and sharing knowledge related to foods. In all these initiatives, Janaki has led by example providing timely and courageous community leadership, donating land for community initiatives, supporting adolescent girls, keeping indigenous knowledge alive about medicinal plants, wild foods and sacred spots of the community. Continuing to practice traditional medicine on the step of her father, she also understands and appreciates modern treatments.
Janaki has helped to document songs, stories, riddles, proverbs and other information important to keep oral traditions alive in her small Kurumba community of 1800 people in the Nilgiris. She actively shares news among indigenous communities and has been especially supportive of women, including for the sustainable collection of honey from the wild. This activity has actually spread across all indigenous people in the Nilgiris and given origin to a flourishing Producer Company which takes advantage of collective marketing. Proving to be a bridge between the traditional and the modern, Janaki supports the philosophy that, "change is inevitable, but it is how we transition that matters". The PKF Award to Janaki (see the beautiful description of the ceremony) is motivating younger women to become leaders and follow her example of tireless work for community wellbeing and social cohesiveness.