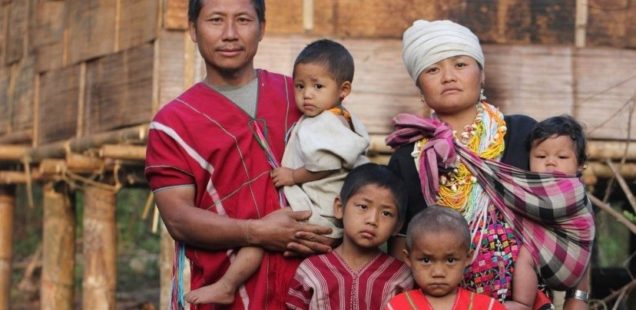 Salween Peace Park and its slain leader Saw O Moo – providing a grassroots' alternative to imposed destructive development in Burma / Myanmar
The Salween Peace Park (SPP) is a conserved territory covering 5,485 km2 in the Salween River basin, a region of great importance to global biodiversity in Burma/Myanmar. It is self-declared by its indigenous Karen people to fulfill their three core aspirations: peace and self-determination, environmental integrity, and cultural survival.  In an area that has suffered from over 60 years of civil war, SPP aims to generate peace and protect a stronghold of Karen culture and biodiversity from old and new threats. Rooted in Karen customary governance and management systems, SPP represents a grassroots alternative to the destructive development plans proposed by the Myanmar Government and its allied foreign companies. It seeks social and environmental justice, deliberative democracy, secured collective rights to land, a model of development that is ecologically sustainable, and the preservation of nature and culture to sustain future generations.
SPP is set to demonstrate good and democratic governance of natural resources at the local level. Instead of large-scale mining and rubber plantations, it works for sustainable management of existing forests through agroforestry, organic farming and eco-tourism. Instead of massive dams on the Salween River, it aims at decentralized and grassroots-managed sources of energy. Instead of megaprojects that risk reigniting war, it seeks lasting peace for a thriving ecosystem where people live well in harmony with biological diversity.
Crucially, SPP is set to preserve a key ecosystem in one of the Indo-Burma region's hotspots for biodiversity, where rare species such as tigers, gibbons and great hornbills still thrive in the dense jungles. Conservation of such rich environments, however, is to be on the indigenous Karen people's terms, continuing the customary rules and practices of earlier generations. In fact, SPP is also set to revitalize Karen culture, which has been under assault since the Burma Army took over the country in the mid-20th century. Indigenous Karen traditions are intimately tied to the land, and there are no better protectors of the forests, rivers and natural resources than the Karen people themselves.
The vision for SPP has been developed by local communities in partnership with the Karen National Union (KNU) through extensive community consultations that even included a Charter referendum about SPP governance and management. A major event to proclaim the SPP will take place in December 2018, highlighting the local vision for a democratic, peaceful and sustainable future in opposition to systematic occupation of indigenous territories and centralized exploitation of natural resources.  In the same occasion, the 2018 Paul K. Feyerabend Award "A world of solidarity is possible" will be delivered to Salween Peace Park and in memory of Saw O Moo, a committed land protector, peace advocate, and defender of indigenous rights.
On April 5, 2018, Saw O Moo was travelling from his home on the plains of Ler Mu Plaw to a community meeting at the Luthaw Paw Day community center, over an hour's motorbike ride away. This meeting was held to organize humanitarian assistance for villagers forcibly displaced by recent and ongoing Burma Army attacks in the area.  Saw O Moo never reached his destination, as he was shot and killed along the way by the Burma Army. The authorities confirmed his death but never released his body, preventing his family – including his wife Naw Paw Tha and 7 young children, who had been displaced from Ler Mu Plaw on March 4th, 2018— to perform their funeral rites.
Saw O Moo was born in 1975 in his parents' hut on their land in T'Ri Plaw, in the Ler Mu Plaw area. Since 2006, he worked as a local community partner with the Karen Environmental and Social Action Network. He will be remembered for his life-long passion and commitment to preserving Karen cultural traditions, promoting customary land stewardship, and leading work to conserve some of the last intact old-growth forest and endangered species habitat remaining in Burma.  Saw O Moo was one of the most active community leaders in the Salween Peace Park, a member of the Salween Peace Park Committee and firmly believed in its vision for peace, biodiversity conservation, and cultural preservation. "For us indigenous people, the Salween Peace Park represents our deepest desires and needs," he told the crowd at a public consultation meeting in December 2017.
Indeed, the Salween Peace Park offers a bold vision for the Karen people: peaceful defiance to the brutal actions of the Burma Army and its disregard for villagers' lives, and a beacon of solidarity and inspiration for communities, civil society and ethnic political organizations across the country at a time of ongoing political instability and widespread calls for democratic reforms.  Only armed with such visions the indigenous Karen people of Burma will be able to bear the terrible tragedy of the death of Saw O Moo's and so many others…  Saw O Moo's struggle to build peace and protect ancestral lands will remain a living legacy for the Salween Peace Park.