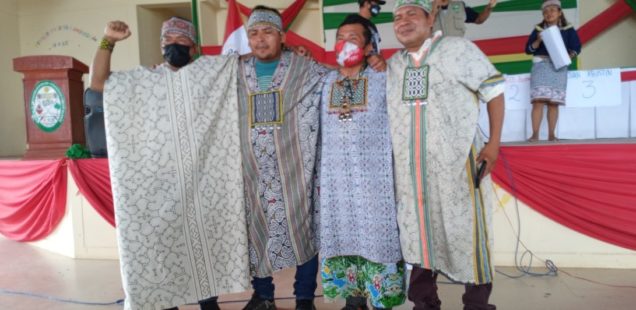 A self-organized Guardias indígenas protects the territory of life of the Shipibo-Konibo-Xetebo people in the Peruvian Amazon
The Council of the Shipibo-Konibo-Xetebo people (Coshikox) has just announced the creation of a Guardias indígenas to protect its territory of life in the midst of harassments and aggressions by people determined to illegally extract timber from the communal forest, fish illegally and open up land to grow coca and develop drugs. The current wave of threats in the community of Flor de Ucayali began on 18 June 2020, when some Coshicox members encountered loggers in their territory and decided to confiscate the wood.  The decision was followed by death threats to the head of the community's vigilance committee.  In August 2021 members of the community, together with representatives of the Ministry of Agriculture and Irrigation, carried out an inspection visit throughout the territory and found that 30 hectares had been deforested for illegal coca cultivation. They even encountered some coca growers, who refused to leave the territory despite the fact that the community has a legal collective title to the land.
During the summer 2021 a Coshicox delegation went to the Peruvian capital – Lima – to inform the authorities about the threats from illegal settlers, loggers and drug traffickers… but not much changed.  The local authorities and police are unresponsive and fearful of intervening in the difficult conditions of the Amazon region.  They are conspicuous only by their absence. Recently, masked and armed 'cocaleros' openly harassed people in Flor de Uacayali.  They even shot bullets and did their best to intimidate the community.  Many—including women and children –found refuge in the community building where they stayed hiding in the dark for a long while.  It was after this incident that Coshikox decided to act and organise its own Guardias indígenas (indigenous guards) for self-defence.
The Guardias indígenas includes individuals from diverse indigenous communities and counts with the support of a number of allies, including the Instituto de Defensa Legal, a Peruvian NGO that helped them to define its legal structure and statutes as an organisation. In fact, the Guardias indígenas is a fully legal body, and its work is carried out in cooperation with the Peruvian Army. Importantly, it is also a fully legitimate body, organised by the communities themselves and launched in Yarinacocha in a community assembly on 23-24 November 2021.  At the time of writing, some guards are already in surveillance duty, although they do not yet have access to good means of communication.  The community expects them to make a major difference, as it has happened in other communities in the Amazon region and beyond.  This video is a moving statement by a neighbouring community that – like the Shipibo-Konibo-Xetebo– has decided to take its destiny in hand: https://youtu.be/uAeAgYQfuvo
Through crowdfunding and other means, several individuals and organizations are offering support for the logistics of the mobilisation. Upon an emergency request from the COSHICOX organization, which is one of our prior grantees, the PKF Foundation has also decided to offer a small financial support.  Our resources will go to provide the indigenous guards with uniforms (e.g., green polo shirts and caps) to identify them and allow the community to visibly show strength and unity.  They may also help to organize meetings, buy communication equipment, carry out surveillance inspections, etc. While the guards will carry arms, our donation will not be used to buy weapons.  We admire the strength and determination of the "Guardias indígenas" of the Shipibo-Konibo-Xetebo people as they valiantly put themselves at risk to preserve the integrity of their territory of life and the future of their descendants.   For more information: