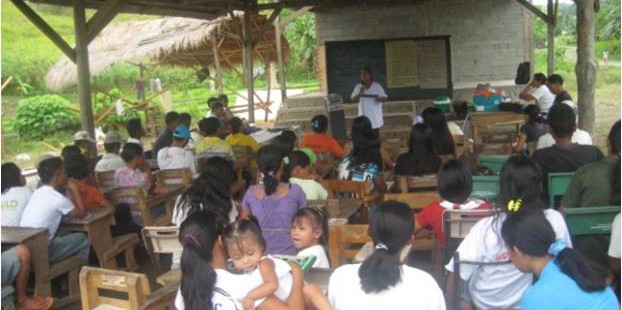 The B'laan of the Philippines keep seeking land and food security, social justice and peace !
The Inter-Cultural Organizations' Network for Solidarity and Peace (ICON-SP) Inc. is a relatively new partnership network of various Tri-peoples' (referring to the Muslim, Christian settlers and indigenous peoples of Mindanao) and other organizations committed to work together towards peace-building, human rights and sustainable environment and livelihoods in Mindanao.
The area served by ICON-SP has a long history of conflict, deeply rooted on cultural discrimination and economic and political dominance. The endless cycle of violence painted traumatic experiences in the hearts and minds of the affected tribes and families. Violent conflict was actually manipulated to control land and natural resources, displacing people and depriving them of their means of livelihoods. The whole island of Mindanao is actually under the aggressive expansion of corporate large-scale mining and agri-business plantations, often settling just in the eve of intense military operations that caused fear and displacements of the civilian populations. The area of Columbio– encompassing forested watersheds and agricultural land— is targeted for major gold and copper extraction to start operations in 2016. While most people oppose that, some community leaders were lured by personal benefits to grant their approval. As a result families and communities are divided.
One of the daring actions made by the people of Columbio—and especially the B'laan indigenous peoples— was to file a petition against mining with the Philippine Supreme Court. That petition was first positively resolved… but the verdict was inexplicably reversed just after a few months, allowing foreign mining corporations to operate under 100% ownership in the Philippines. Having lost their legal battle, the communities of Columbio shifted their efforts towards improving their socio-economic conditions, to meet at least their urgent needs for food and land security. So far, they did not secure a Certificate of Ancestral Domain, but just a Certificate of collective ownership, securing land for ten years under an agrarian reform program.
With the help of the PKF Foundation, B'laan people will inventory and map their local resources, learn and apply sustainable practices to increase food production both in the uplands and lowlands (about fifty hectares), care for watersheds and collaborate to work and sell their products together. The project will last two years, demonstrating the capacity of marginalised groups, such as the B'laan, to rise up against injustice. Their spirit of solidarity is very high, as diverse peoples (Muslim, Christians, indigenous peoples) unite to defend themselves against destructive projects and to demonstrate alternative modes of livelihood.
The continuing fight of the B'laan people against mining giants is quite popular in the contemporary Philippine resistance movement as a "David and Goliath" example. Upon losing their legal case, the leader of the B'laan organisation faced the press and had this message: "the fight is not lost, there are other avenues to pursue it. The legal battle is just one of the many arenas. We continue to be vigilant to defend our rights and the future of the generation to come. We are not weakened… we are even stronger!" As they shift their focus towards sustainable agriculture and concretely improving their lives, these people continue to extend their solidarity and inspire mining-affected communities throughout the Philippines.