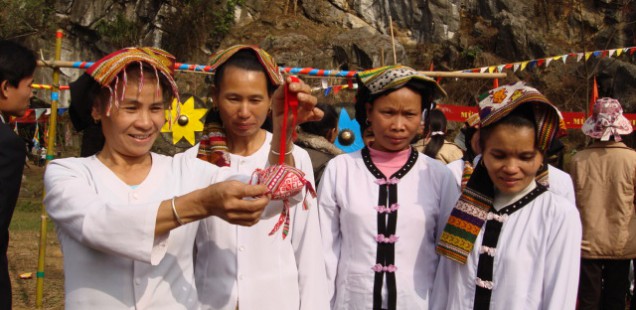 Conserving the ancient Thai language of Vietnam
Supporting the Vietnamese Thai speakers to maintain and strengthen their traditional language in seven province of Vietnam (implemented by the Center for Sustainable Development in Mountainous Areas- CSDM; Nominator: Jason Morris-Jung)
The Center for Sustainable Development in Mountainous Areas (CSDM) is a Vietnamese NGO actively involved with many of the country's indigenous communities. Their shared vision is to ensure that all disadvantaged peoples and ethnic minority groups are able to realize their rights, enjoy high quality of life and preserve and pass down to future generation their cultures, traditions and customs.  Among the groups with which they have worked since 2002 are indigenous peoples speaking a local variety of Thai. CSDM assisted these people to develop a network called "Indigenous Knowledge and Ethnic Minority" (IK&EM), which has been focusing on traditional culture (song and dance), herbal medicine, and traditional Thai language and literature. The IK&EM networks members are herbalists, farmers, teachers, social activists and government officers in eight provinces of Vietnam. The Thai ethnic minority in Vietnam amounts to about 1,330,000 people, living mainly in seven mountainous provinces of the north-west.
In Vietnam, the Thai script originated in the 11th century. There exist 8 different local varieties of such script, which have all been used in ancient literature. During the French colonial period and until the early 1950s, the Thai script was officially used in northwest Vietnam, although not taught in schools.  After the liberation of North Vietnam in 1956,  a Thai script called Improved Script was taught to Thai minority children in primary schools. In 1969, however, the teaching of Thai language was stopped following a "temporary suspension" decision by the government.  Since then, the Thai script has not come back to school curricula, legal documents or learning processes within communities.
The unique Thai script of Vietnam is important as it can build bridges between the so-called White and Black Thai sub-groups in Vietnam but also because it can be used by Thai-speaking people both in Vietnam and in the region at large (Thailand, Lao PDR and China).  This allows people to share information through newspapers, magazines and even through Internet, since the Thai script is already available in Unicode font.  In fact, the Vietnamese Thai script can bring together Thai teachers, scholars and communities in important advocacy and learning processes.
This initative supports advocacy for the recognition of traditional Thai language in Vietnam. One of its objectives is to transcribe and produce a CD documentation of the well-known epics "Xong chu xon xao" (Farewell to his lover) and Khun Lu Nang Ua (Lu and Ua) in traditional Thai.  Another one is to organize a national workshop to explore in some depth the challenge of conserving, revitalizing and recognizing the Thai language followed by three further workshops at provincial level to introduce Vietnamese Thai script and textbook in seven provinces.