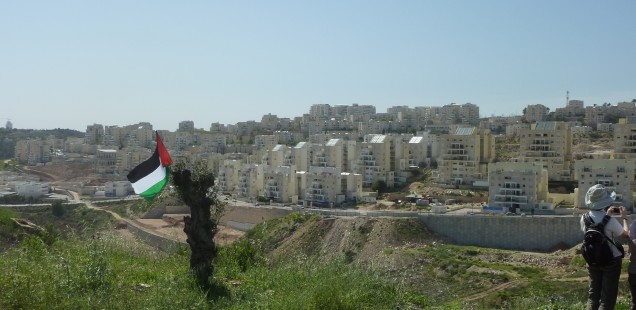 The Popular Committee of Bil'in : a peaceful exemplary struggle against "the wall" in Palestine
Bil'in is a Palestinian village that wants to continue to live… and because of that it has been fighting g hard to save its land, its olive trees, its resources and its freedom. By building its "separation wall", the state of Israel has annexed approximately 60% of Bil'in's land, suffocating the village, damaging it day by day and constraining its people in an open prison…
But for six years, the entire village has been leading a peaceful, exemplary struggle against the wall. To begin with, it created an organization to coordinate and direct the struggle: the Bilin Popular Comittee against the Wall. And then on, for six long years, every Friday the entire population of Bil'in has participated in a non-violent demonstration in front of the wall, accompanied by Israeli and international activists. In that, however, it surely faced ferocious repression. Every Friday, the Israeli army fired tear gas and rubber bullets (or worse) on the demonstrators guilty of shouting slogans and singing. This year two people have been killed and many more have been injured.
In parallel with the non-violent demonstrations, the People's Committee conducted a struggle on the legal front, where it obtained some limited victory, such as a order for a minimal displacement of the wall. The youth of Bil'in are very united and participate in a variety of activities for the benefit of the whole village, such as cleaning public spaces. They also, however, take the front line on Friday's events and demonstrations. And it is them who are most often injured and arrested….
Today, Bil'in is a national and international symbol of the peaceful resistance of Palestinians to the Israeli oppression. Other villages have followed its example, and carry out now the same kind of regular, non-violent, resistance activities.