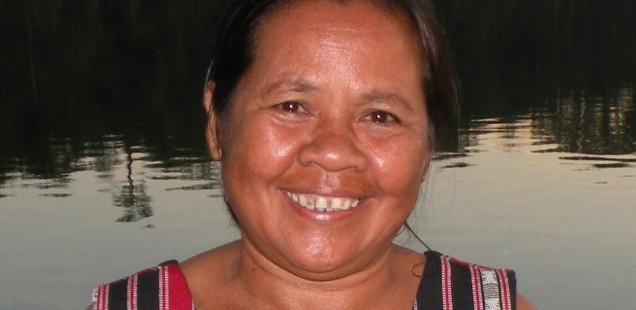 Dam Chanty: courageous organiser of indigenous peoples in Ratanakiri province (Cambodia)
Ms. Dam Chanty is an indigenous Tampuen/Lao with a long history of working to strengthen the rights of indigenous peoples in Ratanakiri Province and Cambodia. Chanty is 53 years old and has 6 children and 3 grandchildren and is fluent in the 7 languages spoken in Ratanakiri Province: Tampuen, Jarai, Brao (including Kavet and Kreung), Kachok; Khmer, Lao and Vietnamese. After the fall of the Khmer Rouge in 1979, Chanty rose through the Cambodian Peoples Party's ranks to head Ratanakiri Province's Women's Association. In 1996, however, she began working for non government organizations and since then she has been instrumental in establishing two indigenous networks that operate in the northeast of Cambodia: the Highlanders Association and the Sesan River Protection Network. The latter was created to give voice to the 20,000 people who live along the Sesan River and have been negatively impacted by dam building on the river upstream in Vietnam (Chanty's home village is located on the Sesan River).
Since 2001 Chanty has coordinated the Highlanders Association Support Organisation (HASO), which facilitated the emergence of an indigenous network among 91 villages and indigenous participation in policy forums for land rights, cultural identity and access to education, justice and health. In her role, Chanty is also a member of a government task force for indigenous land titling and she represented her people at several national and international workshops and conferences.  For many years, she has worked tirelessly for little salary. In an environment of uncontrolled economic development and in a province until very recently remote and isolated, her work has been controversial and risky. In 2005 Chanty and the Highlanders Association were instrumental in preventing a village from selling land to a wealthy businessman. Subsequently Chanty narrowly avoided a gunman who was hired to kill her. This resulted in the death of a local policeman and the gunman. Recently she has been defending her house from powerful local politicians who want to sell the land her house is on.
Chanty's work is dedicated to develop a strong independent organisation capable of defending the interests of Ratanakiri's indigenous communities. She has seen encouraging progress, with communities more capable and confident in standing up for themselves, with better knowledge of the law and their rights. But there is still a lot to do, and Chanty and HASO remain a vital support for indigenous peoples to deal with a barrage of impressive challenges.